Having left the Royal Navy in the 1980's, I settled with my wife Nuala in Warwickshire and followed my career as an engineer. I progressed from technician, into Management, where I gained a Masters' Degree in Business (MBA) and advanced into senior management with several blue-chip organisations. It was as an engineer that my appreciation for critical tolerances and quality would prepare me for my passionate vocation, that as a maker of fine guitars.
I have been making acoustic guitars from my purpose - built workshop in Warwick for over 12 years. My love of guitars started at an early age when my parents purchased my first guitar, a bright red Fender Stratocaster. Although I started with a Strat, I soon progressed through a range of acoustic guitars and it was by taking one of them to be re-fretted by a local guitar technician that my fascination with the craft began.
Over the next two years I purchased a series of books on the art of making guitars and carried out extensive research on the selection of woods, the process of making guitars and the identification of the Master guitar makers in the UK. At the time, there were several people offering training on the making of guitars but these were held in large classes. This was not for me I wanted a dedicated, one on one, experience with a master luthier.
One of the books that I purchased was that of Acoustic Magazine 'The Book of British Guitar Making' which listed the 25 most influential guitar builders. I immediately tried to contact Alan Marshall, proprietor and master Luthier at Northworthy musical instruments. Initially, Alan declined my offer to become a trainee, but after several phone calls he agreed to meet me. The meeting went well and Alan agreed to mentor me at his workshop in Hulland Ward. My initial training was extensive and required me to travel for 3 hours daily from my home in Warwick. This initial training lasted for three years where we built a friendship out of our mutual passion for beautiful musical instruments. Alan and I still talk regularly, and he is always interested to see and hear my guitars.
Alan is internationally renowned and has created musical instruments for several professional musicians, including the late and great George Harrison (The Beatles). George was a tremendous musician and one of the all - time great guitar players. George commissioned Alan to make him a resonating ukulele over 30 years ago. Unfortunately, the exact whereabouts of the instrument is unknown, although it is rumoured that the instrument remains within the original band members.
While I clearly have a great deal to live up to, I couldn't have wished for a better teacher, mentor and friend than Alan. The knowledge he has shared has been invaluable in my dream to build the finest acoustic guitars.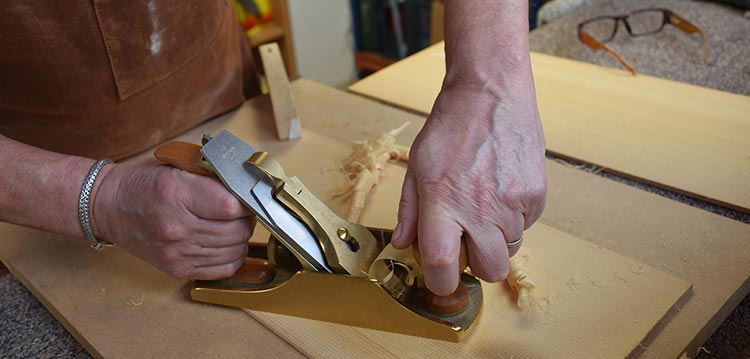 ---
"I remember the first time I met Simon at my workshop at Hulland Ward and I couldn't get over his passion to learn how to make guitars. On the conclusion of our meeting, I agreed to provide one to one training. The plan was that we start from first principles theoretical underpinning, wood selection through to eventual finishing techniques and the final set up. Simon never stopped asking me questions, taking photographs, making notes and sketches with the cumulation of the training being that Simon built a first-class acoustic guitar, which he still possesses today. It is so pleasing to me to see Simon continuing to apply the teaching from all those years ago. Simon takes the art of Lutherie very seriously and I am so pleased he is following his passion. I wish Simon and Arden guitars all the very best for the future."
Alan Marshall