If Lutherie is the art of making guitars, then the wood must be the canvas on which the artist creates the masterpiece. All things being equal and in the right hands, the best tone wood will make the best sounding, most attractive musical instruments. I have been purchasing; only the finest and most beautiful woods; from all over the world for nearly two decades, and all are purchased from recognised and accredited suppliers. Where these woods have been dried for many years before they are purchased, they are also air dried by me for a further 5 years before they are considered for an instrument.
I have many beautiful tone woods that are currently available, such as, Koa, Tasmanian Blackwood, Myrtle, Claro Walnut and Ziricote to name but a few. My recent purchases include English Bog Oak, which is a truly stunning timber with beautiful medullary rays and is reportedly 5,300 years old. All tone woods are truly exquisite and are complemented with only the finest sound boards from the west coast of America, AAA Sitka Spruce, Adirondack, Red Wood and Cedar. All necks are hand carved from only the best hard woods available, typically, Mahogany or Maple.
All purfling, bindings and linings are natural woods and in the case of the bindings and linings are handmade in my workshop.
Sound hole decorations are inlayed by hand and I have several different materials to choose from. I have recently sourced a natural material that is available in many colours and textures, which once inlayed, looks beautiful.
The headstock logo is cast from solid silver and made in the Jewellery Quarter in Birmingham. Each logo is hand inlayed into the hard wood headstock and once finally lacquered, provides a clear and distinct symbol of craftsmanship.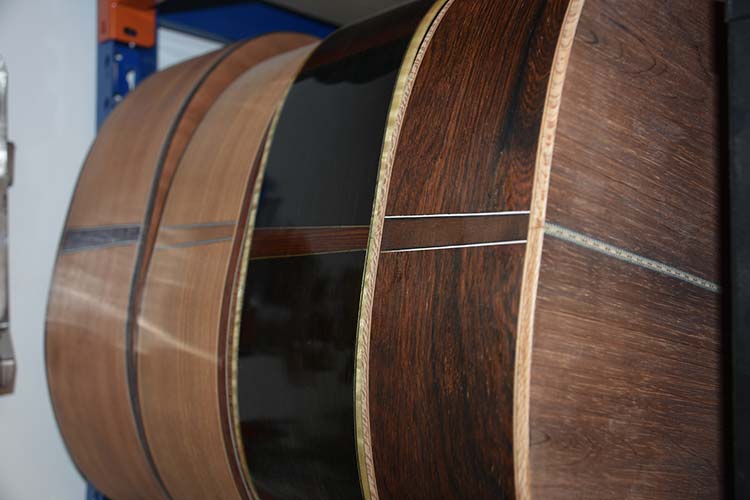 ---